IROAD X9 Remarkable FHD 2CH Wifi Dash Camera
FRONT & REAR VIEW FULL HD RECORDINGS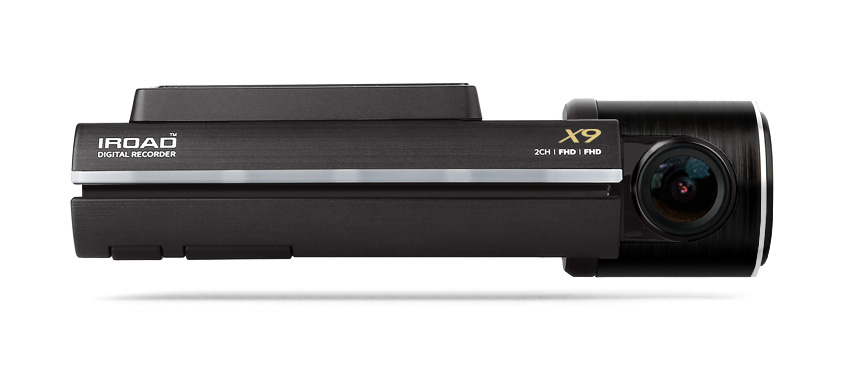 Front Image Sensor

SONY STARVIS

Rear Image Sensor

SONY Exmor

Intelligent

NIGHT VISION
Front - FHD

Rear - FHD

Road Safety

Warning System

WIFI Connection

& IROAD App
Rotatable Lens

90º

2.9W

Minimum Power

150º

Wide Angle
Battery Discharge

Prevention

Front - 30fps

Rear - 30fps

Format Free

Auto Recovery
SONY STARVIS IMAGE SENSOR
Premium sensor that guarantees the ultimate sharpness and night image quality with SONY SARVIS image sensor
IROAD X9 is equipped with Sony Starvis image sensor to record the brightest and the cleanest images even in low light environments; it provides a much brighter and clearer image compared to seeing with bare eyes.
Intelligent NIGHT VISION for IROAD
In parking mode, the surrounding brightness is automatically diagnosed within 5 seconds and the recording brightness will be set to 3 times higher when the surrounding illumination is low. It can record bright and clear images not only in parking mode but also in driving mode.
Front Camera – IROAD X9


SONY

STARVIS

Full HD

1920x1080

30

Frames

150º

Angle
Rear Camera – IROAD X9


SONY

Exmor

Full HD

1920x1080

30

Frames

145º

Angle
Lane departure warning system
LDWS operates in a way that the front camera recognizes the road lane in real time and, if the driver falls asleep while driving or drives poorly, causing the car to depart the lane, it will notify about it through the preset warning sound.
Forward collision warning system
The FCWS function calculates the average distance from the vehicle in front and alerts the driver in advance when reaching the range of safe breaking distance in order to prevent a collision.
Front Vehicle Departure Warning
Front Vehicle Departure Warning is for generating an warning upon start of a vehicle in front of the subject vehicle during stop and waiting for a signal. Intelligent smart system for driver's convenience.
Wi-Fi is automatically connected after running IROAD application. When running the app, it will also prompt the user if there are any new software updates.
The patent was granted for IROAD Wifi function. The Wi-Fi function for other existing in-car cameras rather give users a real hassle and is hard to connect. IROAD APP provides the most convenient automatic Wifi connection / disconnection function
IROAD Dash Cam mobile viewer is your convenient go-to-app for easy access to your IROAD Dash cam.
Manage your Dash cam with Wi-Fi, view live footage and download or delete recordings on your smartphone with this mobile app today.
AUTOMATIC WI-FI CONNECTION
Wi-Fi will be automatically connected after running the IROAD application. The application will itself prompt the customer to upgrade the software when there are new software updates.
LIVE SCREEN
Users are able to watch front/rear live screen. The Date, time, voltage, travelling speed and GPS info are all shown at the bottom of the screen.
PLAY YOUR VIDEO
View recorded recordings on your mobile phone through the IROAD Dashcam Mobile App. Check out your last driving journey. View recordings/playback on the road details you have missed. Makes it much more convenient viewing from your smartphone

QUICK DOWNLOAD
Now you can download all the recordings to your smartphone in your car right away without having to take the microSD card out and plugging it into your computer.

MANAGE YOUR DASH CAM REMOTELY VIA WI-FI
With this mobile app, you can remotely access your IROAD Dash Cam and adjust the settings.
In the settings, users can change the following: Resolution, frame, recording mode, sensor sensitivity, time/date, memory capacity allocation and voltage control(uninterrupted power/low voltage cut-off)

EASY WI-FI SET-UP
The most convenient Wi-Fi function which IROAD has to offer, patent obtained. Wi-Fi function for other existing in-car cameras rather give users a real hassle and is hard to connect. IROAD App provides automatic connection/disconnection function.
Continuous Recording Mode
When the car engine is started, the device is automatically turned on and starts recording on driving mode.

Event Recording Mode
During parking or driving, when a motion & Impact is detected within the vehicle, it will automatically start an event recording.

Motion detection & Parking Mode
Safe parking to support the recording mode to protect the vehicle, even when parked. Advanced parking mode, the engine starts up automatically once it is detected by the car. Front and rear camera automatically detects movement before any motion.

The file system improved in stability by utilizing the JDR system. Recordings are automatically saved in the main memory unit and are safer than previously-used formats. JDR format does not require formatting regularly and automatic rebooting function guarantees the safety of the device and data.
Saved images can be memorized and restored with the auto recovery system. In addition, by allocating the data to a certain size, the user can arbitrarily adjust the data to be recorded and allocate space according to the size.
Battery Discharge Prevention Function
For the purpose of battery protection, automatically detects and cuts off voltage when the voltage drops below a certain point. Once initiated, recording is stopped and power is turned off. The motion detection function is effective for saving battery.
The intuitive and simple-to-use interface of IROAD DASH CAM allows you easy and convenient viewing of your recorded videos.
Through PC or Mac viewer, you can playback and download recorded videos along with your route history and speed record.
Synched with google map, the external GPS keeps track of traveling speed, records driving information and supports ADAS function.

More Stable at Higher Temperature
Equipped with All Glass lens, that will not warp under high or low temperature. Optimized image quality is presented with All Glass lens
Automatically reboot device at the specified time. It will check for memory card errors and organize the recorded data.
Voice guidance & Voice recording
You will hear such things as Start recording, event occurred, wifi connected etc. from the voice guidance that informs you each time something changes. The high quality microphone is embedded in the device and it is useful as evidence for an accident.
Firmware, viewer and application can be updated through the server. Check the version by connecting to the smartphone via Wi-Fi,check for new firmware and update it.
 

| | | | |
| --- | --- | --- | --- |
| Dimension | 110 x 48 x 20 mm | Weight | 83g |
 
Camera
Front: SONY STARVIS 2.13M
Rear: SONY Exmor 2.0M
Resolution
Front & Rear: Full HD (1920 x 1080P)
Frame
Front & Rear: 30fps
Degrees
Front: 150º
Rear: 145º
CPU
ARM Cortex-A7 MP Core Processor V3
X-VISION
In parking mode, set automatically brightness 3 times more
Wi-Fi
Smartphone playback/settings, Firmware automatic upgrade
ADAS
LDWS(Lane departure warning system)
FCWS(Forward collision warning system)
FVDW(Front Vehicle Departure Warning)
LBP
Cut-off and booting voltage settings(Constant power)
G Sensor
Axis Accelerometer G-Sensor (3D, ±3G)
GPS
External GPS Antenna ((In conjunction with Google Maps to check the location and speed)
Capacity
Micro SD 4GB ~ 128GB (recommended type MLC Class10)
Recording Modes
Normal(driving)mode, Event(impact)mode, Parking(Motion Detection) mode, Voice recording
Audio
Speaker (effect sound for informing operational status and 34 kinds of voice guidance voice guidance supported),Microphone embedded
Video
H.264 / ADPCM
Temperature
-30 ~ 80 º C (Storage temperature : -30 ~ 90 º C)
Humidity
10 ~ 95%
ETC
Security LED / Operation Status LED/ GPS Receiver LED
PC viewer
Windows Xp, VISTA, Win7, Win8 (32Bit ~ 64Bit support)
Application

IROAD App (Android 2.3, iOS 5.0 or higher version)
IROAD Genuine Micro SD 32GB
Quick Guide & Extra Double-sided Tape
IROAD Genuine MicroSD 64GB